Monduli Moments from Tanzania Christian Clinic and Alpha Omega Christian Secondary School
"Kidnapped"
Meet Devota Lukas, one of the 47 new students at Alpha Omega Christian Secondary School.  The following notes were written by school principal Janet Allison after visiting Devota's home near Monduli:
"We met Devota's uncle Joseph in his traditional home. He has one acre for corn and beans on a washed out hillside. He does business with another man's motorcycle, from which he gets very little profit. He has 9 children of his own. Devota is his brother's daughter. Devota's father wanted to force her to marry, but Joseph kidnapped her. Her father lives in Loksali. Joseph has two of his own children in secondary school, two in primary school. He has two wives."
Yes, Devota is part of our inaugural class because she was "kidnapped" from her father's home by a caring uncle.  It is not unusual for young Tanzanian girls to be given in marriage before they have a chance to start eighth grade. Entering a "cycle of poverty" that starts with early marriage, and continues with teenage pregnancies, these girls usually have poor education, sickness, and a subsistence lifestyle in a polygamous family. In this case, Devota's uncle saw fit to rescue her from early marriage and try to send her to high school instead. Of course financial resources are often a prohibitive problem.  It is simply not possible for students like Devota or her caring uncle to afford school tuition on their own. School expenses of about $100 a month must be subsidized by grants and scholarships.  So, we welcome donors who might like to sponsor one or more needful students at Alpha Omega Christian Secondary School (AOCSS). Donate Online Now ->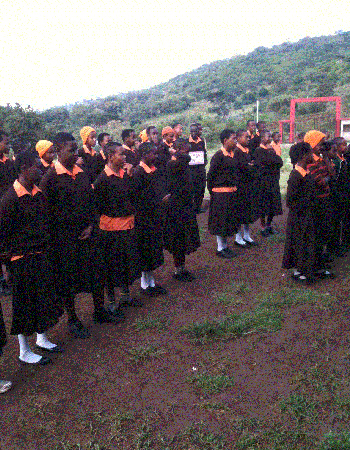 AOCSS students at morning roll call
One purpose for the opening of Alpha Omega Christian Secondary School was to help young people break the "cycle of poverty".  Hopefully, our students will successfully finish high school and have a hope of attending college.  They can become parts of stable, productive families and become leaders in their respective communities. More importantly, students have an opportunity to learn Biblical truth. At least four students have already become Christians. Thank you, God!
The first 47 students entered Form I (eighth grade) in January of this year and have just finished their first semester.  Special thanks go out to volunteer faculty and staff Janet and Fielden Allison, Lita and Chris Hayes, and Tammy and Lewis Short.  Several Tanzanian faculty members are employed at the school as well, and soon we hope to welcome a Tanzania headmaster.  While there were many special moments during our first school term, it seems the most inspiring moments occurred at 8 AM on Sunday mornings when the new campus church would meet for worship.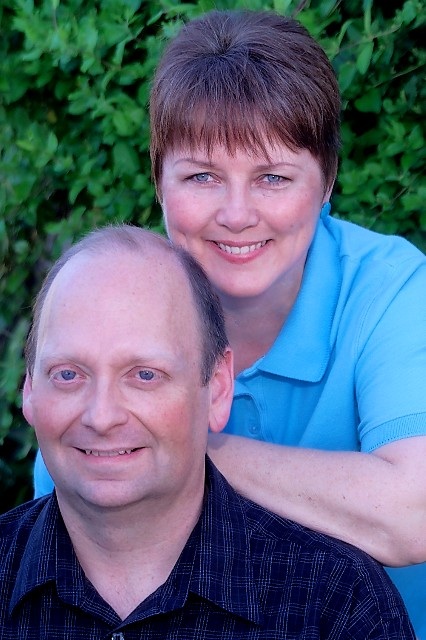 Lita and Chris Hayes
Please be praying for Alpha Omega Christian Secondary School as we hire a headmaster and add new faculty members.  Also, pray for donors who will help in our efforts to build a new science building consisting of two labs and two classrooms.
Progress Notes
On the medical side of things, Tanzania Christian Clinic (TCC) continues to minister to the sick in Monduli District and the surrounding area.  We have been blessed with a great new laboratory technician, Steven, and a new X-ray technician, Nathan.  Later this year we expect to expand our laboratory services so that TCC can perform complete blood counts (CBC).  Scheduled to bring a new CBC machine, James Strother from AR will get that service up and running. Lindsay Gilbert from University of Arkansas Medical School will accompany James. She will help train our laboratory staff as well as teach health and hygiene in the schools and community.
There is a special need regarding one of the TCC clinical officers.  Innocent Mashayo was recently diagnosed with multiple myeloma and has asked for prayers.  He is currently being treated at a cancer center in Nairobi which is a financial struggle since Innocent has no health insurance.  His wife Hilda is our clinic manager.
We are happy to announce that clinical officer Medson Malongo will be returning to school to become trained in ultrasonography.  Medson will be sponsored by International Health Care Foundation, Inc. 
Again we say thanks to donors who help make the medical work possible. Compassion Now Foundation, Inc. has been a faithful supporter of ours for several years.  In order to fund their grants to medical missions, this foundation markets Compassion Tea.  Income from sales of various types of this delicious tea is used to help support the work. If you know of a coffee house that might be willing to stock Compassion Tea and help medical missions in the process, please contact us at smelser.j@juno.com. We appreciate you!
Danny and Nancy Smelser